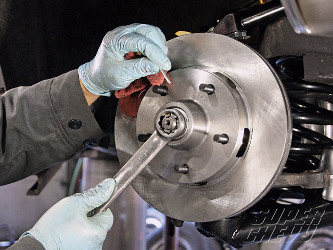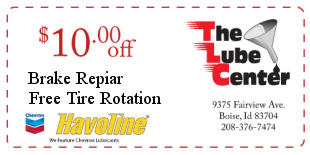 When it comes to maintaining your vehicle, it sometimes can be a little too easy to let things slide. However, one item you never want to neglect is your brake system. The length of time it takes brake pads to go bad depends on a variety of factors, mostly your own driving habits. There are several warning signs to look for when it comes time to change your brakes; common indications of brake wear are high pitched squealing, grinding, vibration or shaking, long brake pedal travel, and pulling of the vehicle to the left or right when brakes are applied. Unlike most shops, we only replace what is needed. You often can save yourself money by replacing brake pads before they damage or warp your rotors. Brake checks are always free!
Free Tire Rotation. All of our brake repair jobs come with a free tire rotation and air pressure check. Rotating your tires increases the life of the tire.
Premium Brake Pads. Here at The Lube Center we offer only quality products. From the most affordable fix, to high performance brake pads and rotors, we have you covered. In most cases we will get you back on the road same day. We understand how important your vehicle is to you.
100% Satisfaction Guaranteed! From the time you walk through our door until the moment you leave, we believe in 100% satisfaction. Let our service experts show you how good old customer service is supposed to work.
Save $10 on your brake replacement Print the coupon above, show it to us on your smartphone, or just mention you visited our website. Please give us a call if you have questions, our phone number is at the top of our website.